The Idaho Outfitters and Guides Association (IOGA) was founded in Salmon and incorporated in February of 1954, some seven years before outfitters persuaded the legislature to establish the Idaho Outfitters and Guides Board (now IOGLB) in 1961. At the time of the founding of the IOGA, the North Idaho Outfitters and Guides had just begun, but later joined with the IOGA. IOGA is a non-profit business trade organization whose current mission statement is "Uniting Idaho's Outfitters and Guides, advocating for the preservation, growth and integrity of the outfitting industry while promoting quality outdoor experiences for the outfitted public."
For perspective, realize that in 1954 Dwight Eisenhower was President, the average annual income was $3,960, tuition to Harvard was $800 per year, a postage stamp was three cents, Roger Bannister ran the first sub four minute mile, Joe DiMaggio married Marilyn Monroe, the Supreme Court ruled in Brown v. Board of Education to end segregation in public schools, favorite songs included Mr. Sandman by the Chordettes and the Academy Award winner of best picture of the year was On the Waterfront starring Marlon Brando.
Idaho outfitting and guiding in the 19th and first half of the 20th century was largely centered on big game hunting with legendary hunters such as Cougar Dave Smith operating in what is now the Frank Church River of No Return Wilderness. In the 1920's Captain Harry Guleke started up a business offering Main Salmon River trips using wooden scows that went one direction, downstream. Some would say that Idaho guiding began with Sacajawea whose recognition of familiar landmarks in southwestern Montana and in the Lemhi River valley near Salmon assisted the Lewis and Clark party in 1804 with their journey to the Pacific Ocean.
Today, the Idaho industry is multi-faceted and offers diverse seasonal outdoor recreation opportunities to those who seek a guided adventure. Economically, guided boating activities, float and power, make up the largest segment of the industry. Hunting is next followed by fishing and other activities including winter ones. This diversity identifies IOGA as an umbrella organization whose membership is largely small, family run businesses tied to Idaho's rural economy. For perspective, 80% of IOGA resident outfitter members lived in and contributed to the economy of communities with an average population of 451 in the 1980s. The 21st century Idaho population boom has led to greater outdoor recreation opportunities for both residents and non-residents. Some would say that IOGA's organizational strength and challenges are directly related to its diverse membership. Today, IOGA remains the only statewide organization representing licensed outfitters and guides plus related businesses.
Governance
Since its founding, IOGA has been blessed with strong volunteer leadership particularly at the president level. IOGA officers include a president, vice president, treasurer, and four section or sector leaders--rivers, hunt, recreation and guides. Officers serve two-year terms. The balance of the 16-member board serves three-year terms. Terms for all board members are staggered and this encourages continuity. While there is nothing formal in the IOGA bylaws regarding geographical or affinity representation to be elected to the Board, the IOGA nomination and election process, i.e., the "ballot box", have succeeded so that no one sector of the IOGA dominates its Board of Directors.
In terms of longevity on the IOGA Board of Directors, Darl Allred served as Treasurer for over 20 years from the late 1990s to 2019.
IOGA Presidents at the annual meeting in the 1990s
Front: Elwood Masoner 1981-84; Max Walker 1967-71; Paul Filer 1963-66; Martin Capps 1972-74
Back: Harold Thomas 1985-88; Norm Guth; 1975-1980; Doug Tims 1989-93
Staffing and Office Space
From 1954 to 1985, IOGA records and bookkeeping were kept by a series of part time secretaries including working in coordination with the IOGA President and Board of Directors. A part-time executive director paid position was established in 1985 under the leadership of then President Harold Thomas and transitioned to a full-time position in 1986. It reverted to a part-time position in 2010 and was re-established as a full-time position in 2019. Grant Simonds served as Executive Director from 1985 to 2019. He continued as the IOGA Government Affair Liaison during the transition (2020) to the current Executive Director, Aaron Lieberman, who started in December of 2019. The executive director is assisted by one paid jack-of-all trades position. Janey Breusch served in this role from 1992-2020 and Lauren McCullough from February 2020-February 2021. Currently, Jessica McFarlane fulfills this responsibility.
Office space for paid staff included a series of Boise downtown rentals from 1985 to 1992. In 1992, IOGA purchased a small 2-bedroom 1100 square foot home at 711 N. 5th Street that was utilized as office space and included a small meeting room, basement storage while maintaining bedrooms that were used by visiting members from time to time. This home was located within an easy 10-minute walk to the Idaho Capitol building. In 2019, IOGA used the N.5th home sale proceeds to purchase office space elsewhere in Boise at 9450 W. Fairview Avenue, Suite 110, 83704, and to refund a full-time executive director. A constant for IOGA since its founding in 1954 is its mailing address, P.O. Box 95, Boise, ID 83701.
Annual Meetings
The IOGA bylaws require annual membership meetings. Annual, semi-annual and special meetings have occurred in all Idaho regions including the resort cities of McCall, Sun Valley and Coeur d'Alene. Priest Lake, Post Falls, Lewiston, Grangeville, Orofino, Salmon, Challis, Idaho Falls, Nampa and Boise facilities have hosted two-to-three-day meetings that are organized and implemented by IOGA staff, board of directors and area outfitters. IOGA annual meetings normally occur in early December in Boise and are scheduled as to not conflict with December meetings of the national outfitter organization, America Outdoors. During the Covid-19 pandemic, annual meetings were held virtually.
IOGA annual meeting agenda includes general and section meetings (Rivers, Hunt, Recreation and Guide). Education topics with expert speakers are a highlight. State and federal resource management persons participate. Meeting time is set aside for two sister organizations, the Middle Fork Outfitters Association and Salmon River Outfitters Association, to meet. Throughout IOGA's history, Honorary Lifetime Members who have been nominated by members are recognized for their special interest, service and contributions to the industry, are recognized during the annual December meeting.
Beginning in 1988, the IOGA acknowledged state and federal resource managers during the meeting with the Resource Manager of the Year award. Time is set aside for the Women of IOGA to meet. An evening party with music and silent auction are meeting staples. An annual meeting favorite is the Poetry Contest initiated in 1996 by member Barbara Judge. Click here for contest winners and poetry.
"To me, being a member of IOGA means money in my pocket. I can learn about mistakes others have made and paid for, so I don't have to make the same mistakes and pay for them as well. The people who have made a success of outfitting are there. If I'm not there, how can I learn? Plus, it is a lot of fun and rewarding to hang out with quality people."

Doug Tims
Northwest River Company
IOGA Chapters
IOGA's membership increased substantially with the initiation of a chapter system in the late 1980's through Grant Simonds leadership. Chapters were established in the Clearwater Valley, Salmon, Challis, Panhandle, eastern Idaho, Bitterroot Chapter in western Montana, Riggins, and western Oregon. Chapters serve as an outreach of the statewide organization.
Member Leo Crane was responsible for initiating IOGA's first chapter in the Clearwater Valley. Chapter members are also members of the parent organization. Leadership is key to chapter longevity and achievement. Important to chapter success include building and maintaining relationships with local resource management agency persons. Special events like the Orofino Roundup (dinner and fundraiser) of the Clearwater Valley Chapter were much anticipated by the local community. Members Ken and Elizabeth Smith and Leo and Dee Crane were responsible for organizing the Roundup. They had lots of help. Proceeds of chapter fundraising have been used for such things as scholarships for college education and contributing both manpower and funds for projects to enhance recreation access like on the Henry's Fork of the Snake River in eastern Idaho. Today the Salmon Chapter is still going strong due to longtime leadership provided by members such as Dave Melton and Tammy Overacker.
Lobby Days and Lobbyist
In the late 1980's, former Idaho licensed outfitter and Idaho Senator Ron Beitelspacher encouraged and challenged the IOGA to become more proactive with a consistent presence during the annual Idaho legislative session. Previously, IOGA volunteer members monitored the legislature on an as needed basis including the 1961 effort to establish the Idaho Outfitters and Guides Board (now IOGLB). In response to Beitelspacher's challenge, the IOGA contracted with consultant Liz Paul to organize and implement Lobby Days. An IOGA outfitter member, Shelly Fisher, was Lobby Day Coordinator during the 1990s. Since 1992 (minus the 2020 Covid-19 pandemic year) twenty-five to fifty members have traveled to Boise to participate in this mid-February event.
The purpose of the February Lobby Days is to make contact with elected leaders and to share and gather information related to industry issues. Lobby Days begins with an evening member orientation on current issues. A short but informative session with a legislator or lobbyist is an orientation essential.
The culmination of Lobby Days is a late afternoon and evening reception called the "Taste of Idaho Outfitting" for legislators and other invited guests at the Basque Center in downtown Boise. Outfitters, guides, spouses and others prepare hors d'oeuvres, wild game dishes, breads, and desserts that are served dutch oven style. Approximately 150 persons attend IOGA's reception. It is one of the most popular events during the legislative session.
The success of IOGA Lobby Days is largely due to the excellent overall coordination by the IOGA staff. We urge members to come and participate in Lobby Days, a signature IOGA event!
A logical step to be proactive at the Statehouse is that IOGA has had professional representation through a lobbyist since 1995. John Watts was the first of several IOGA lobbyists. Since 2004, Jeremy Pisca of Risch Pisca PLLC has been in this position. The IOGA lobbyist works closely with the IOGA executive director throughout the year. IOGA has an effective system for monitoring the legislature and has a positive image and track record at the Statehouse.
Promotion of the Industry
The IOGA was one of many entities that supported the establishment of the Idaho Department of Commerce in 1982 along with the resultant tourism promotion grant program that is funded with approximately one half of the total 2 % "bed" tax that is collected on each lodging night. The IOGA has competed for and been successful in garnering an Idaho Travel Council (ITC) grant each year since the program was established to promote awareness of the Idaho outfitting and guiding industry, primarily to non-resident visitors.
The economic impact of outfitting businesses on Idaho's economy can similarly be framed against a common, useful indicator used by the State: The Bed tax. There are approximately 429 outfitters licensed in Idaho (in 2019). Annually, there are approximately 222,000 guests who enjoy Idaho's outfitted activities. Assuming even half of the visitors annually stay in overnight lodging that collects the 2% bed tax for at least two nights related to their outfitted trip, which is almost certainly low for outfitted clients, and factoring the average room night at $98, outfitted clients contribute an estimated $435,120 annually to the 2% bed tax.
Additionally, lodges and guest ranches collect the 2% bed tax for multiple nights. There are at least 75 licensed outfitters who have a guest ranch or lodge. IOGA was able to gather information from 20 of those guest ranches and lodges that collect the 2% bed tax. Collectively, the 20 outfitters with Guest Ranch/Lodging service contacted paid over $200,000 in the bed tax in 2020.
Over the years, ITC grant funds have been used to attend travel and sport shows, placement of ads in various publications, print and distribution of a directory of outfitter businesses, partial funding of several research projects including valuations of the economic impact of the industry on Idaho's economy, development and promotion of the IOGA website, press releases and blogs and branding of the various sectors of the industry with specific websites with promotional videos. A number of IOGA member outfitters including Frogg Stewart, Barb Opdahl, Marty Smith and Lonny Allen have served on the eight member Idaho Travel Council that are appointed by the governor. The ITC grant is managed by IOGA staff with regular reports to the Dept. of Commerce required.
In summary, tourism is Idaho's third largest industry. Outfitting and guiding represent the largest segment of the outdoor recreation portion of the Idaho tourism industry. In summary, the IOGA group marketing program is focused on raising awareness of Idaho guided outdoor adventures, and strives to steer potential outdoor recreation visitors to individual licensed Idaho outfitter businesses. The program is supplementary to individual business marketing efforts.
Idaho Wild Rivers Grant Program
The IOGA is eligible to apply for grant funds and has been successful on a number of occasions since 2003. The Idaho Wild Rivers Grant Program is funded through the sales of the Idaho Wild Rivers specialty license plates. The Idaho Department of Commerce oversees the award of these funds to whitewater related projects throughout the state. Under Section 49-419C, Idaho Code, proceeds from the sale of Wild Rivers specialty license plates may be used for one of the following purposes: •
To promote whitewater river tourism within Idaho.
To promote, encourage or ensure safe use of Idaho's whitewater rivers.
To improve user facilities or access to whitewater rivers.
To help clean up litter or promote good conservation practices by river users.
Eligible recipients of Wild Rivers grant funds are federal, state, or local government agencies, or incorporated non-profit organizations related to whitewater river recreation. The Wild Rivers advisory panel is made up of five members representing whitewater river communities and the rafting/kayaking industries. The panel is responsible for the award of funds.
IOGA has used license plate grant funds for color ads for newspaper inserts, online advertising in a well-known outdoors magazine and in a digital ad program at the Boise airport. It has also supported improvements at several access points on the Payette and Salmon Rivers.
Professional Guide Institute—Education Opportunities
The Professional Guide Institute was created by the IOGA in 1992. The PGI mission statement: To enhance the natural interpretative skills of guides so that the highest quality experience is offered to the public. The PGI promoted three goals: Natural resource protection; Quality public service and Responsible, shared use of public lands.
Training was provided during annual meetings as well as in outdoor environments. In 1998 IOGA through the PGI in conjunction with the U.S. Forest Service began sponsoring Guide Rendezvous'. Examples of course offerings included wildflower, tree, shrub and scat identification, night sky identification, Lewis and Clark history, Salmon River geology, archeology and history, fire ecology and a memorable field trip led by Nez Perce Tribe interpreter Otis Halfmoon to the Battle of the Bighole that occurred during the Nez Perce War of 1877. Field trip participants were allowed to visit sacred sites on the battlefield.
PGI learning modules, videos with handbooks, were created featuring the Wilderness Act, the Wild and Scenic Rivers Act and horse packing. The Institute was administered by outfitter and professor Dr. Richard Clark. Continuing education credits were available through Western Montana College in Dillon, home of the PGI. The PGI in and of itself no longer exists.
Many outfitters continue to provide and/or promote interpretative education for guides during the preseason and through other educational outlets such as the Idaho River Rendezvous. It's not uncommon for land and water-based outfitters and guides to have first aid credentials beyond what is required by the Outfitters and Guides Licensing Board. Many river outfitters require at least one if not the entire guide crew to have taken courses in wilderness first aid and advanced river rescue methods.
Partners Afloat and Partners Astride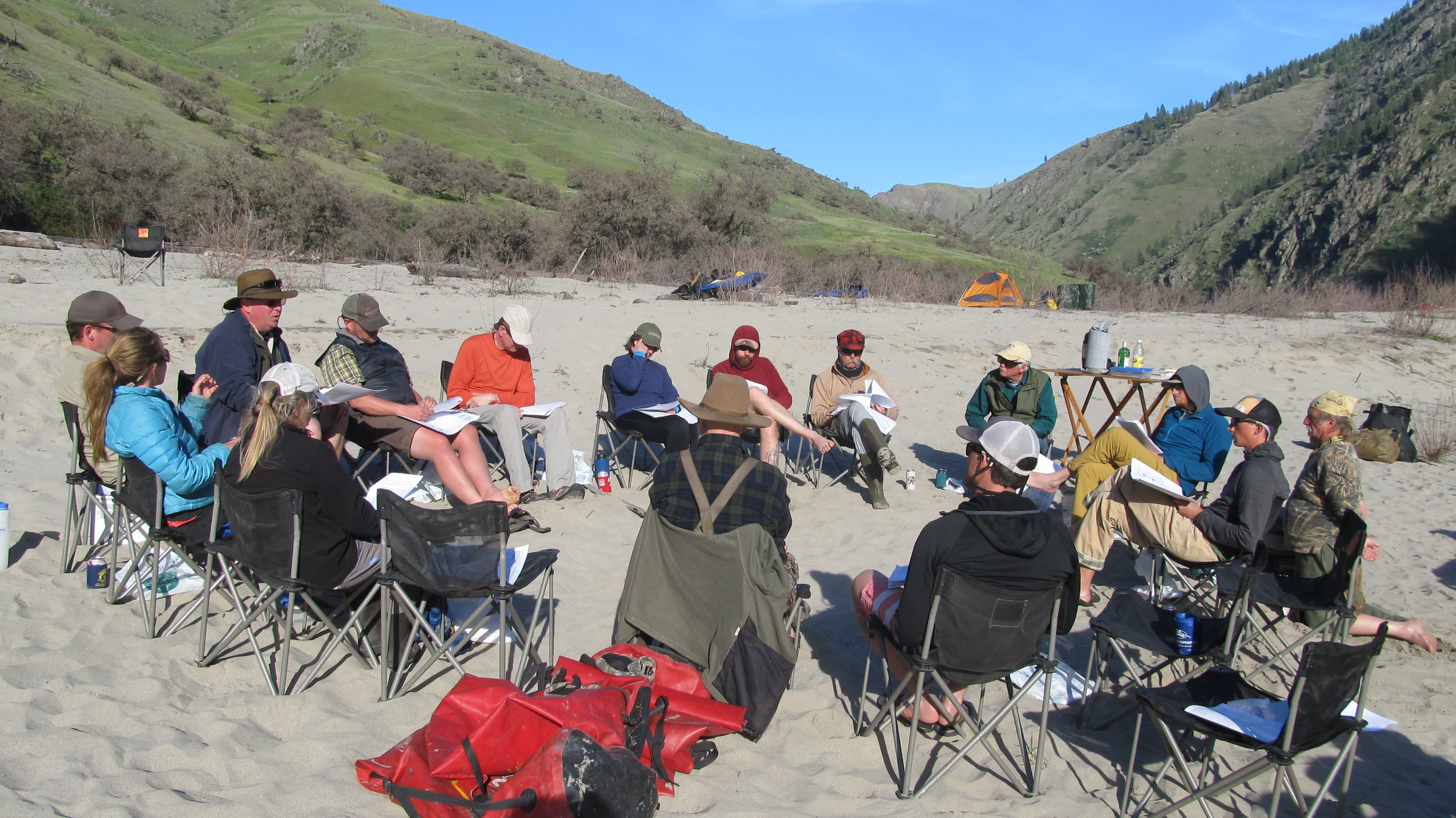 The 1986 report of the President's Commission on American Outdoors focused attention on the growing use of America's public lands for recreation. In response to the report the Forest Service initiated the National Recreation Strategy and the Bureau of Land Management initiated Recreation 2000. These initiatives called upon user groups to join with the federal land management agencies in partnership to improve recreation services on public lands. The IOGA response was to initiate the Partners Afloat and Partners Astride program in 1987. This model has been adapted statewide and nationally as a useful tool to promote positive interaction.
Partners Afloat / Partners Astride so impressed USFS Chief Dale Robertson that he created a Chief's Partnership Float Trip that annually brought together representatives of the multiple use industries that work with the Forest Service. Many positive relationships were built, including some that lead to the building of two new boat ramp facilities on the Payette River with labor from outfitters, guides and private boaters, materials donated by Boise Cascade and planning and administration from the local USFS District office.
Partners Afloat trips have been held on the Main Salmon, Middle Fork of the Salmon, Hells Canyon of the Snake River, South Fork and Henry's Fork of the Snake River, and day stretches of the Salmon River in the Challis and Salmon area. Partners Astride trips have been held on the Nez Perce, Clearwater, Panhandle and Sawtooth National Forests including the Sawtooth National Recreation Area along with the Frank Church River of No Return Wilderness.
Participants include outfitters, guides, resource managers, congressional staff, conservation and environmental groups, multiple use industries, and various user groups. The trips have been organized by IOGA staff with assistance from key members related to the specific resource and the agency partner of that particular resource area. Each trip has a structured agenda, yet time for one another to visit casually. One of the chief benefits of Partners trips is getting to know one another on a first name basis along with the natural carryover to relationship building that increases.
Special Projects, Initiatives and Collaboratives
Beginning in the 1990s, proposed state and/or federal government regulations made it necessary to marshal significant IOGA resources over and above the normal annual operating budget to properly address challenges that, if unmet, would have significantly changed Idaho outfitting and guiding detrimentally.
Special projects are approved by the IOGA Board of Directors and funded primarily by the members affected by a particular issue and are managed by volunteer steering committees and the IOGA staff with board of director oversight. In some cases, consultants are hired to assist.
Preserve Hunting. In March of 1997, the Idaho Legislature passed legislation and Governor Phil Batt signed into law a provision that enabled the Idaho Department of Fish and Game to allocate deer and elk tags to the outfitted public when and if hunting opportunity became restricted in a specific hunt management area that had been open to general hunting previously. Agency rules, IDFG and State Licensing Board were subsequently approved. Without tag allocation, outfitters would not have access to tags to market their businesses once hunting opportunities become restricted. In 1998, the Lolo Zone in North Central Idaho was the first of many zones to be restricted.
Nearly 150 small businesses are licensed and special use permitted to provide services for deer and elk hunting. Over $35,000 was raised and spent for this special project.
Significant legislative efforts to maintain the viability of the Idaho hunt industry with IOGA leading the way occurred initially in 1986 with successful refinements in 2019, 2021 and 2022. More details on these endeavors are available elsewhere on this website.
The Frank Church Special Project. There are nearly 100 outfitter businesses attached to the 2.3-million-acre Frank Church River of No Return Wilderness, the largest contiguous and forest wilderness in the lower 48 states. Over 70 of these businesses are connected to whitewater and fishing activities on the Middle Fork and Main Salmon Rivers, two of America's best managed recreation resources.
IOGA Frank Church outfitter members had been involved in the management plan revision process since 1991 including the 1993 Frank Church Wilderness Symposium in Boise. IOGA responded, with member assistance, at every step of the Forest Service planning process.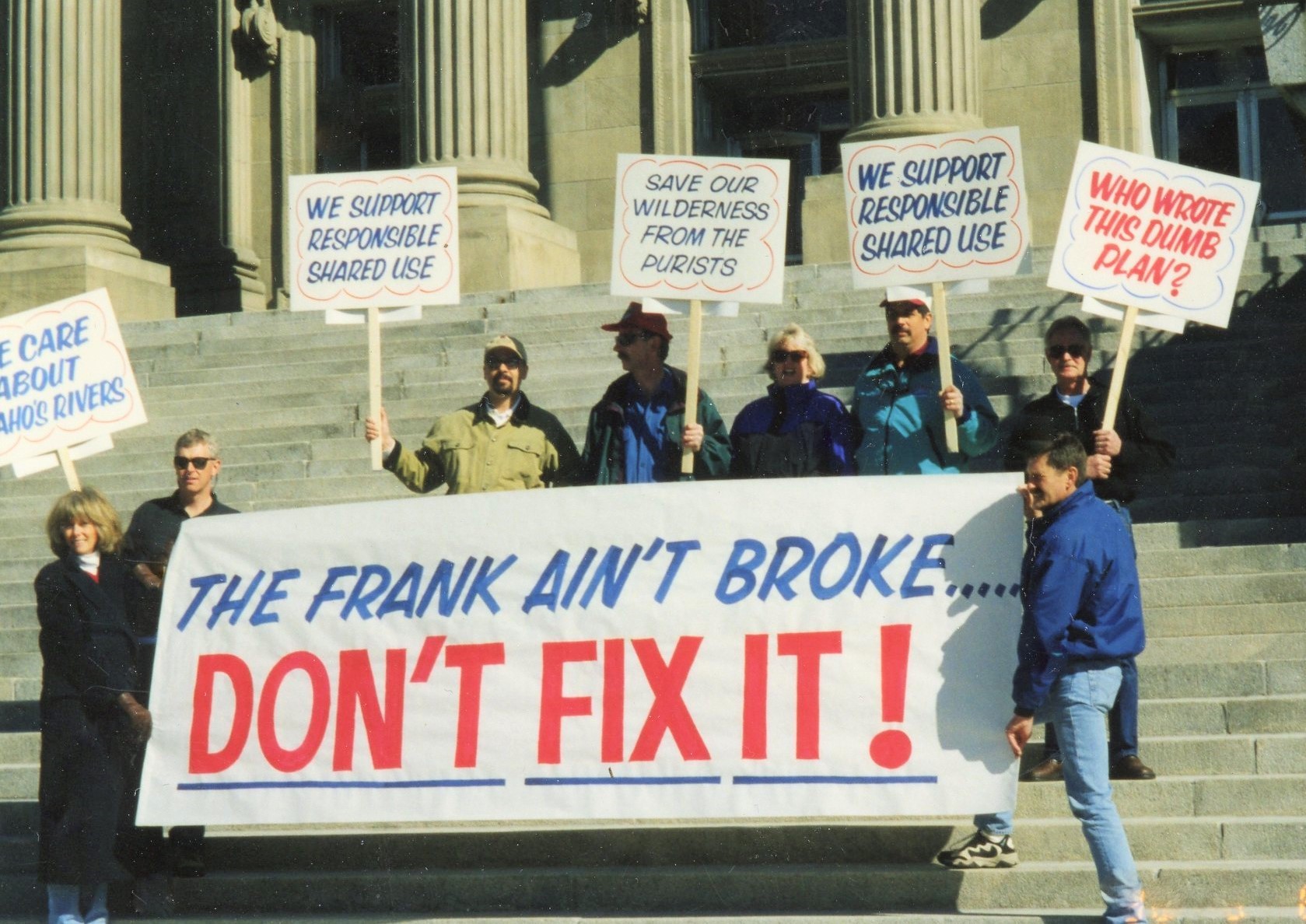 In 1996, prior to the release of the Forest Service's Draft Environmental Impact Statement the IOGA Frank Church outfitter members established a special project to respond effectively to the proposed management plan revision for the "Frank" A media relations consultant was hired. A brochure and related video were produced and distributed. An outfitter speaker's bureau with a strategic message was prepared for use with Chambers of Commerce and other groups. The DEIS was released in 1998. The Preferred Alternative was a bombshell with recommended cuts of 33 to 95 percent of existing allocated river use, commercial and private. The IOGA responded by hiring an independent bio-economist and worked collaboratively with affected interest groups and conservationists to promote a campaign that IOGA named "The Frank Ain't Broke, Don't Fix It!" A user group rally organized by IOGA was held at the Idaho Statehouse in early 1999 that contributed to the Forest Service shelving the DEIS for a Supplemental DEIS that was released in late 1999. IOGA raised and spent approximately $65,000 for this project. Ultimately, a new Frank Church management plan was approved in 2004 that was modified slightly after the appeals process was completed. The current Frank Church Wilderness Management Plan remains in effect in 2022.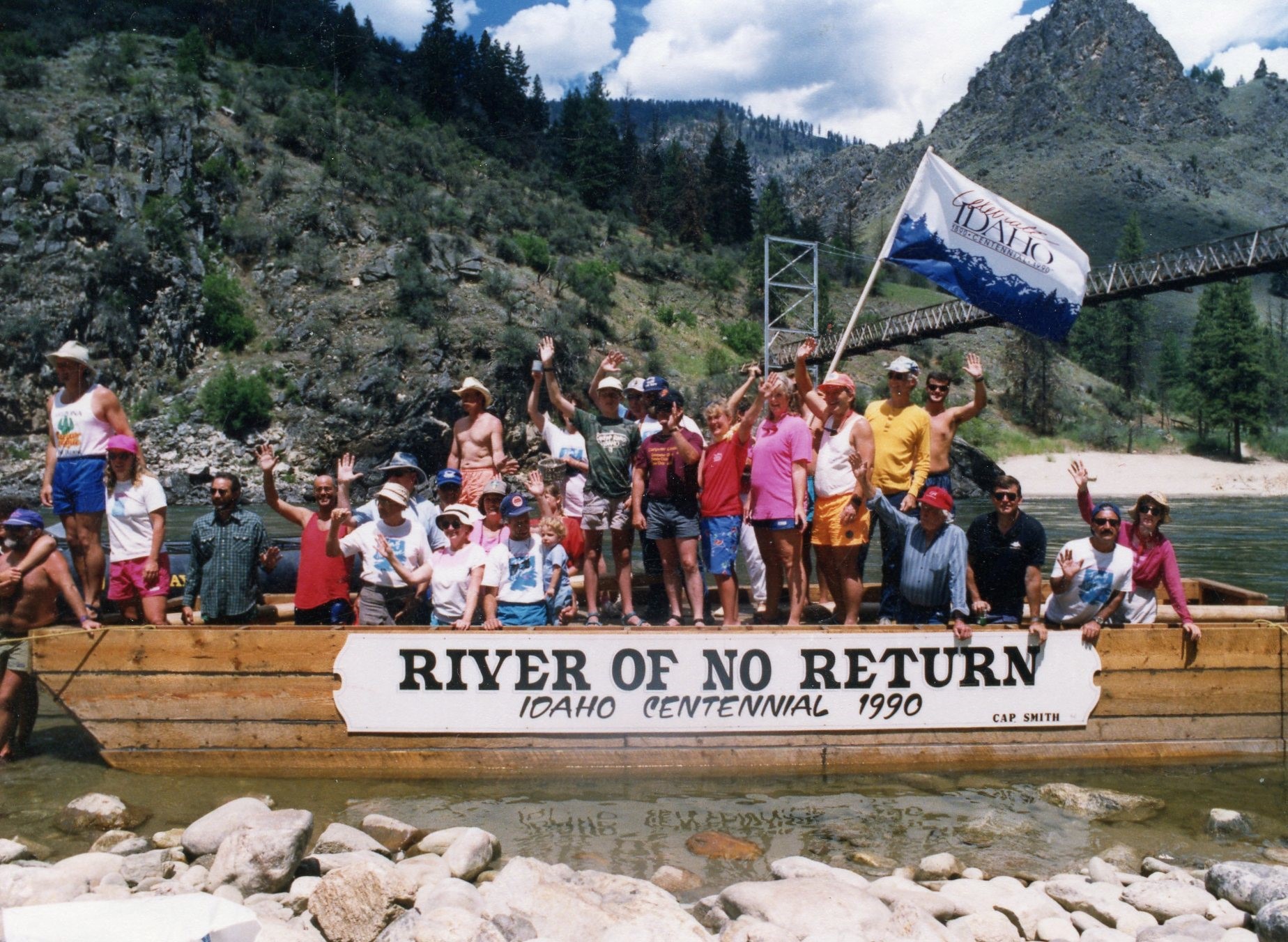 Idaho Centennial Float Trip. To celebrate Idaho's anniversary of 100 years of statehood, the IOGA sponsored a 1990 sanctioned (Idaho Centennial Commission), float trip on the Main Salmon and Snake Rivers. IOGA commissioned the building of two wooden scows, the Captain Smith and Captain Guleke, modeled after the type used in the 1930s by Harry Guleke. This historic float trip brought together Idahoans from all walks of life to celebrate the role of the mighty Salmon River in the history of our state. Joining 46 outfitters and guides in the celebration were the U.S. Forest Service, the Bureau of Land Management and the communities of Stanley, Clayton, Challis, Elk Bend, North Fork, Shoup, Riggins, White Bird and Lewiston. This was a three-week adventure. IOGA hired guide Amy Hoover as the event coordinator to organize and implement the trip. IOGA donated the Captain Smith scow to the Riggins Chamber of Commerce and it is displayed at the Riggins City Park.
Owyhee Initiative. Launched in 2001 the Owyhee Initiative (OI) is an ongoing collaboration of diverse interests seeking common ground solutions that preserve the qualities that make southwest Idaho's Owyhee County unique including the ranching way of life, traditional public access opportunities and wild canyons and rivers.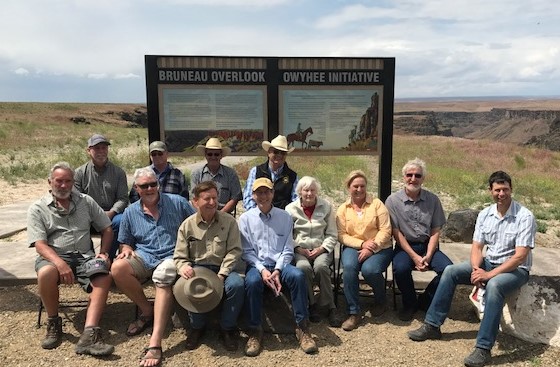 The OI crafted a goal "to develop and implement a landscape scale program in Owyhee County that preserves the natural resources that create and maintain a functioning, unfragmented landscape supporting and sustaining a flourishing community of human, plant, and animal life, that provides for economic stability by preserving livestock grazing as an economically viable use, and that provides for the protection of cultural resources."
Over the course of several years ranching interests, elected officials, community leaders, sportsmen, recreationists, outfitters and guides, and conservationists worked together to achieve this ambitious goal with coordination assistance from the Owyhee County Commission, Bureau of Land Management and the Shoshone Paiute Tribes. Through dozens of meetings and field trips throughout Owyhee County, the OI work group produced the Owyhee Initiative Agreement in 2006 that set forth a course of action to protect the viability of the ranching economy, cultural resources, traditional access opportunities and wildest parts of Owyhee County's spectacular canyonlands.
Idaho U.S. Senator Mike Crapo introduced the Owyhee Public Lands Management Act in the U.S, Congress as part of the implementation of the 2006 OI agreement. The Act passed Congress and was signed into law in 2009. The legislation designated 517,000 acres of Wilderness, the first BLM managed Wilderness in Idaho, and 300 miles of Wild and Scenic rivers. It also removed 200,000 acres from any further Wilderness consideration, allowing other uses to proceed on those lands.
The members of the Owyhee Initiative continued their collaborative efforts after the legislation passed to track implementation of the legislation by the BLM and achieve the non-legislative goals of the Agreement.
The Owyhee Initiative is recognized across the West as a successful collaboration of diverse interests. Past IOGA Executive Director Grant Simonds has been representing outfitter and guide interests on the OI Work Group and Board since 2001.
Bighorn Sheep Viewing Stations. IOGA and the Idaho Chapter of the Wild Sheep Foundation organized a project that led to the installation of two bighorn sheep viewing stations, one near Challis just a half mile from the intersection of Highways 75 and 93, and the other on U.S. Highway 93 between Salmon and North Fork at the IDFG Red Rock recreation site. Both are located on the Idaho Salmon River Scenic Byway. Important considerations for choosing these viewing sites were highway safety, presence of bighorns and to lessen the loss of human and wildlife due to vehicle collisions.
Idaho FNAWS member Dick Nachbar and IOGA's Grant Simonds were co-project leaders with gathering fundraising and/or endorsement support from entities like the Idaho Departments of Transportation and Fish and Game, individual chapters of the IOGA and FNAWS, Thompson Creek Mining Company, the U.S. Forest Service, the Bureau of Land Management and the Treasure Valley Chapter of the Safari Club International. Other notable partners included outfitters Stan Potts, Louise Stark and Mike Scott along with Win and Betty Turner who donated the land to IDFG for the Red Rock recreation site. IDFG's Dale Toweill, Trophy Species Coordinator, and Sara Focht, Watchable Wildlife coordinator, along with Dennis Batie, Idaho FNAWS chapter president were also driving forces in making these viewing stations happen.
Both sites include an overhead shelter with signage describing bighorn sheep ecology, recognition of the various organization supporters and a telescope.
Clearwater Basin Collaborative. The Clearwater Basin Collaborative (CBC) formed in late May 2008 with the support of Idaho Senator Mike Crapo. The CBC is a diverse group of stakeholders whose interests in north central Idaho include, but are not limited to; landscape health, timber development, resource conservation, wilderness preservation, mineral extraction, trail maintenance, stream protection, motorized and non-motorized recreation, wildlife management and community development. These sometimes-competing purposes require the group to reach across barriers and to think about the whole system while considering what agreed upon decisions may lead to in the future.
The Clearwater Basin Collaborative Working Group approved an 18-page agreement and work plan on May 22, 2013. IOGA outfitter member Leo Crane represented the outfitter industry till he passed in 2019.
Steelhead and Salmon Initiative
IOGA has recently redoubled its efforts regarding salmon and steelhead recovery, working to create a better, richer and more reliable business and ecological landscape for its fishing members and fishing dependent communities. IOGA engaged its membership, various agencies and conservation organizations during and throughout the closure of the steelhead fishing season in the winter of 2020. IOGA's Executive Director Aaron Lieberman participated in Idaho Governor Brad Little's 2020-21 collaborative salmon workgroup. IOGA supports Idaho Representative Mike Simpson's recent efforts to identify solutions that avoid the status quo and realize the restoration of abundant populations of salmon and steelhead in Idaho.
IOGA acknowledges that there are and continue to be many uncertain variables in play that contribute to declining and unsustainable populations of endangered Idaho salmon and steelhead. Over $17 billion has been spent by the federal government to recover endangered and threatened fish in the Columbia Basin. Despite decades of commendable habitat restoration projects and other recovery efforts within the state and region, the number of salmon and steelhead returning back to Idaho continues to decline.
Four summer Chinook Salmon returned to the mainstem Middle Fork of the Salmon River to build their nests and spawn in 2021. Prior to the building of the four lower Snake River dams, as many as 425 Chinook spawned in the pristine habitat of the mainstem Middle Fork and the 2.3 million acre Frank Church River of No Return Wilderness.
IOGA remains committed to its original 1999 position that dam breaching of the four lower Snake River dams is the best solution to restoring abundant salmon and steelhead returns to Idaho in order to maintain rural Idaho fishing economies and cultural heritage.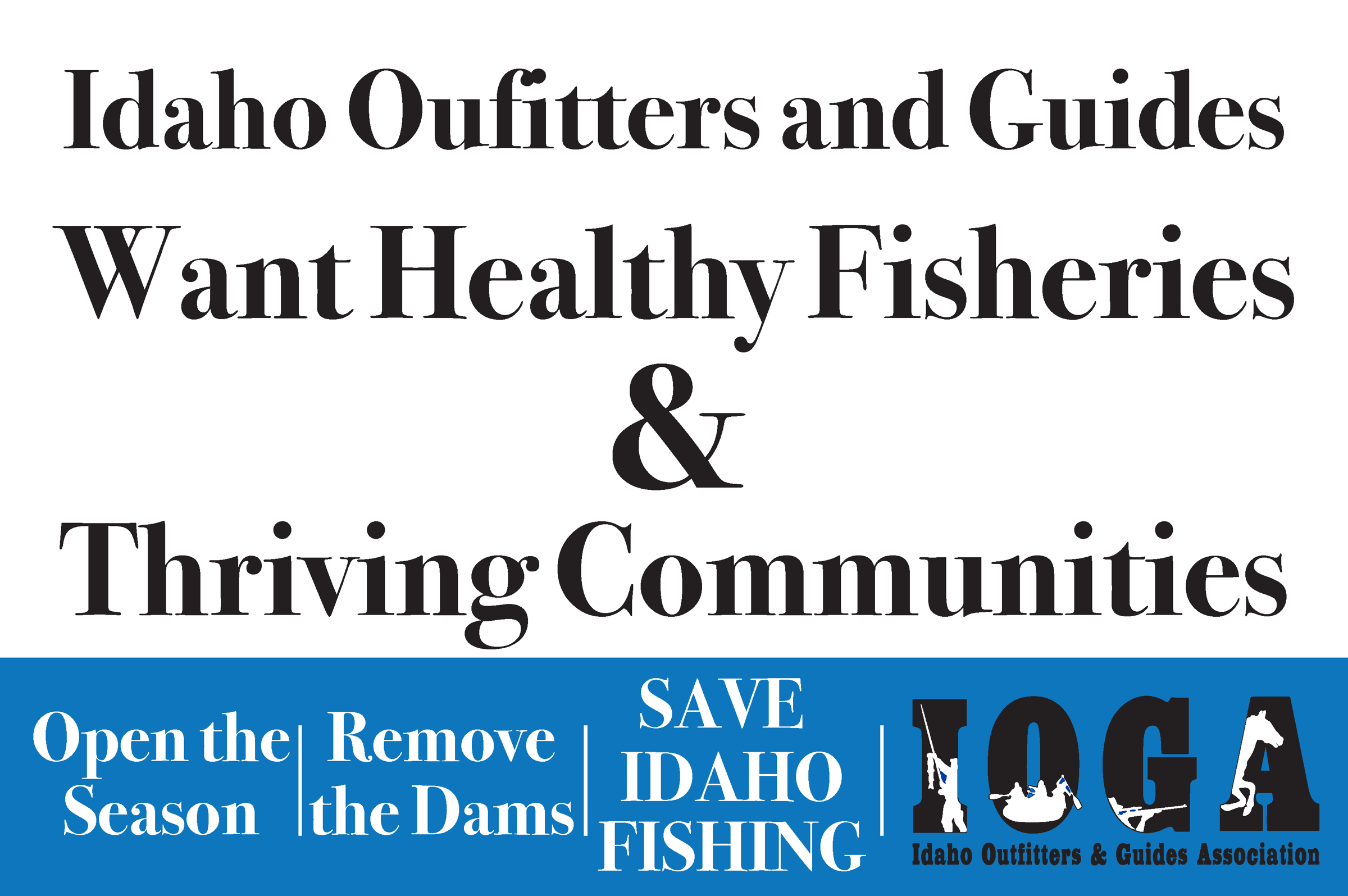 Pandemic Response
COVID-19 has presented the greatest single challenge the industry has ever confronted and IOGA Executive Director Aaron Lieberman was relentless in advocacy and defense of members and the industry in providing relevant information to not only help the industry survive, but thrive. Membership has increased as a result.
Outfitters and guides faced myriad challenges from the onset of the COVID crises—from stifling governmental and agency orders to new operational protocols, from initial cascading cancellations to lagging equipment supply lines, from staffing to testing. You name it. The pandemic has thrown into sharp relief just how critical the Association is to its members. It's no exaggeration to say that without the work that IOGA did from the beginning of the crisis that included initial shutdowns in the early spring of 2020, most outfitters and guides in Idaho would very likely have had drastically curtailed seasons, and possibly not have been able to operate at all.
IOGA drafted language for guidance and worked with the Governor's office to ensure that outfitters could operate and guides could work. The Association worked with Fish and Game staff to allow those clients already booked to utilize outfitted services. IOGA worked with management authorities to ensure reasonable operational requirements, effective communication, and to foster alignment with partners. IOGA drafted language and lobbied for several different pieces of national legislation, including legislation that expanded COVID relief programs to make them more accessible and meaningful for members. Mechanisms were created for alternative income generation for outfitters which some took advantage of. An IOGA COVID-19 task force ("O-19") was formed to help the industry weather the COVID storm. Numerous IOGA webinars assisted members with understanding the ever-changing dynamics. IOGA made difficult decisions and cut its own costs in order to continue fighting for its members, despite the additional load doing so put on the Association and staff. Without exaggeration, IOGA has been the single most driven and effective industry association in the country throughout this crisis.
It turns out that during this continuing pandemic the great outdoors has been just the ticket for Americans to escape pandemic woes and enjoy a guided family vacation. Idaho outfitters have adapted in order to provide supplementary safety operational precautions for employees and their guests. Overall, Idaho guided trips have remained either static in numbers or have increased across most sectors of the industry.
Responsible Shared, Use; Industry Image, and Outfitter Necessities

Past IOGA President Doug Tims coined the phrase "Responsible, Shared Use" in the 1990s. IOGA supports this credo as the key for promoting and maintaining harmony among users of Idaho's public lands and water resources. Responsible, shared use is also a key element in avoiding the love-it-to-death syndrome. Outfitters and guides understand that when they show up at an access point or are using a resource they are automatically held to higher standard.
Members have co-funded river garbage bags for use on the Salmon, Clearwater and Selway rivers. Individual outfitters and guides consistently participate in sponsored cleanups. Outfitters and guides have been involved in habitat restoration on some of Idaho's premier fishing streams. Outfitters have participated in trailhead construction improvements. Hundreds of miles of system and non-systems trails are cleared each year by outfitters and guides. Uncompensated services include river and backcountry rescue, and lending a helping hand, equipment and supplies to those in need. Many individual outfitter businesses have and continue to participate in the Idaho adopt a highway litter control program.
During an April 1990 IOGA spring meeting address to membership University of Idaho Professor Dr. Bill McLaughlin asked those in attendance the following: Will you continue to invest in the development of your professional organization? Will you continue to work on enhancing your relationship and shared decision-making responsibility with public land management agencies? Will you take a proactive role in maintaining and protecting the essence of Idaho—its wildland, rivers, wildlife and cultural heritage? Will you accept that you are part of a larger industry—the tourism industry? Will you recognize that the PUBLIC will be key to have on your side in the future?
These are the bottom-line necessities for outfitter business viability that IOGA advocates for on a consistent basis at the local, state and national level.
Fundraising
Since the mid 1980's IOGA revenues, by necessity, have been supplemented with various fundraising methods in order to adequately fund various IOGA programs. Fundraising has included annual meeting auctions, both live and silent ones. Raffles have been used as a fundraising tool through the years either as a standalone such as the Heritage Raffle of the late 1990s or as ones that have been combined with more formal event fundraising such as the January Thaw and Outdoor Getaway.
In the late 1980s, IOGA initiated a donated trip program in which members were solicited for donated trips and both part time and fulltime IOGA staff persons were responsible for placing these trips with outside organizations with a proviso that at least 50 % of the net proceeds come back to the IOGA. At the height of this program, IOGA was placing up to 50 trips annually. Fundraising staff members in the 1980s and 1990s were Jackie Roe and Holly Thrash. A reduced donated trip program continues today with the current IOGA staff responsible for facilitation.
In the late 1990s, a Dollars for Outdoors fundraising component initiated by member Mike McClain was added. Revenue from this program comes largely through outfitters who solicit voluntarily from their clients. This technique is also referred to as a "pass through" system and is used by other organizations, also.
In the mid 1990's, IOGA commissioned an outside firm to conduct a survey of membership to determine future methods of fundraising. One conclusion from this survey led to the organization and implementation of event fundraisers such as the January Thaw in Boise and the Outdoor Getaway in northern Idaho at the Coeur d' Alene Casino. These fundraisers included sit-down dinners manned by purchasers of tables and their invited guests sold in advance of the event. Donated trips from members and non-members along with donated merchandise such as boats and tents, raffles, live and silent auctions. Professional auctioneers are hired.
The target audience for these events is the general public who are interested in outdoor recreation opportunities and associated merchandise. IOGA hired Shelly Fisher for the Thaw and initially a Getaway committee of Barbara Judge, Elizabeth Smith and Dee Crane to organize and implement. Both the Thaw and Getaway utilized a cadre of member volunteers along with IOGA staff to implement these successful events. Both the Thaw and the Getaway used professional auctioneers and included beneficiaries such as the Ada County Boys and Girls Club and the Children's Village of Coeur d'Alene whereby a portion of the net proceeds were donated.
From time to time, IOGA has solicited grant funds from organizations like the Safari Club International, Safari Club chapters, the Foundation for North American Wild Sheep and several of its chapters. Generally, this solicitation is done in conjunction with a member who has an affiliation with these organizations. To this day, SCI allows for either one or two IOGA donated trips to be auctioned at the national SCI convention in which 75% of the proceeds are returned to IOGA.
Occasionally, IOGA has done special project fundraising such as the 2001 IOGA Recipe & Poetry Book and the IOGA 50th Anniversary Belt Buckle. These were focused membership driven projects that provided IOGA some additional revenue.
The bottom line is that IOGA must have successful fundraising programs in order to maintain present services.
The Role of Wildfire and Impacts on the Industry
Wildfire on Idaho public lands have adversely affected both river and land-based outfitter operations, beginning in the late 1970s and especially in the 21st century. River outfitters rely on summer business to be viable. June and July business generally pays the annual overhead while August/September business allow for profitability.
Outfitters and guides understand that most wildland fires in the long term are beneficial for the resource. And, they understand that they are responsible for the health, safety and welfare of their guests and employees. In this day and age of climate change, the prudent businessman/woman plans for business interruption. Equipment modification has become necessary to account for added costs like flying gear to backcountry airstrips. The Idaho wildfire season is essentially a hundred days now instead of sixty.
Closure of public resources in mid to late summer, rivers and lands, in years like 2000 and 2007, led to an estimated $10 million dollar hit for businesses licensed and permitted to operate in the Frank Church River of No Return Wilderness. Closures have affected outfitter operations in nearly all regions of Idaho in the 21st century. The resultant smoke from Idaho fires and elsewhere must be taken into account for safe and healthy operations. It is a challenge for local, state and federal agencies to provide better real time information to the public due to the ever-changing status of wildfires. Sometimes the best and immediate information comes from those nearest a particular fire.
Communication regarding wildfire is paramount for outfitters. To that end, the Salmon River Outfitters Association and the Middle Fork Outfitters Association have developed and refined protocols with the Salmon Challis National Forest. The main resources of concern that outfitters need specific information and updates include impacts to camps or camp closures, impacts that affect launches and take-outs, road access and egress, particularly dangerous road and river conditions, information on fires burning at or near the rivers that have potential to affect outfitter operations, impacts from smoke and fires burning on adjacent lands managed by state or federal agencies.
It is important to have this information in next-to-real-time on a 24/7 basis, weekends and holidays included. SROA and MFOA representatives then communicate essential information to their constituencies. These protocols also recognize the importance of local, knowledgeable agency resource advisors to incident commanders are vital regarding recreation resources and values.
While there are possibilities to move assigned outfitter operations from one resource to another due to fire impacts, it occurs rarely for a myriad of circumstances- some controllable, some not. Outfitters stress with their clients to stay in constant contact with them leading up to their vacation and to beware of media that may exaggerate local situations.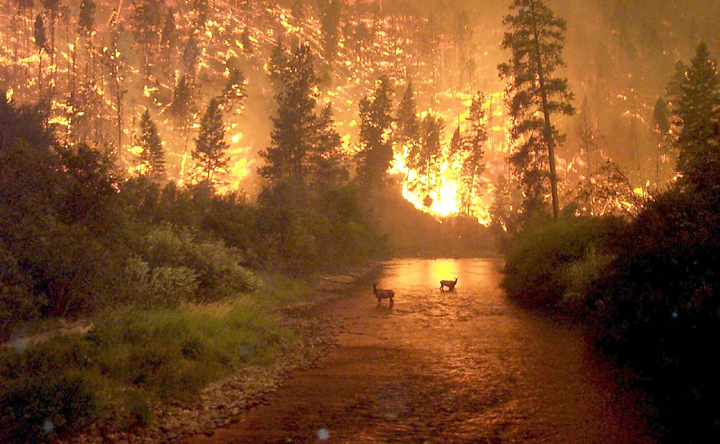 Economic Studies
A handful of economic studies have been done to estimate the economic impact of the Idaho outfitting and guiding industry on Idaho's economy since 1950.
Dr. Harry H. Caldwell and Professor Cornelius Visser of the University of Idaho completed a study in 1951 that focused on the packer (hunting and fishing) and associated air charter services.They determined that there were 105 packers and 27 aircraft operators engaged in charter flights in 1950. This study concluded a gross income to the state of $420,000. Individuals spent $70 to $75 per person per pack trip. The average party size was 4.6 persons. The total number of parties were 572 of which nearly 56% were non-residents.
This U of I study indicates that packer services were largely a part-time profession. Campsite and grazing fees were collected by the Forest Service although semi-commercial and independent hunters were not required to pay. Commercial parties were held responsible for the care and maintenance of a campsite, while others in the same vicinity were not. There were no assigned areas and crowding was an issue.
Jake Lansche, an Idaho State University graduate and private consultant with ties to the outfitting industry, completed a study for IOGA that focused on the 1983-87 seasons.The data was based in part on client participation records provided by the State of Idaho Outfitters and Guides Board who by then were classifying client participation into three categories: Hunting, Boating, and Recreation. During the 1986-87 season, 70 percent of all boating clients, 89 percent of all hunting clients, and 59 percent of all recreation clients were from out of state. According to IOGB a total of 90,825 clients participated in outfitted activities during the 1986-87 season of which 59,469 were boating clients, 20,520 were recreation related and 4,118 were hunters.
This study includes the types of expenditures made by clients, estimated gross expenditures, outfitter expenditures, a regional breakout of expenditures, employment attributable to the industry and concludes with an estimate of value of the outfitting industry to the Idaho economy of $45.4 million.
In the Fall of 1993, the Idaho Outfitters and Guides Association contracted with the Department of Resource Recreation and Tourism at the University of Idaho to assess the economic contribution of the outfitting industry and its clients to the Idaho economy. Ed Krumpe, Ph.d and Stuart Leidner conducted the study. Cooperators included the IOGA, IOGLB—licensing board, the Idaho Travel Council, the Foundation for North American Wild Sheep and the U.S. Forest Service.
The report presents a summary of the industry's contribution to the Idaho economy and an analysis of the outfitted clients. Some factoids include:
374 small businesses operated across the state

Outfitters have been in business an average of 14.5 years

The average Outfitter has been operating in Idaho for 13 years

Outfitting represents on average approximately 67% of a proprietor's income

Many Outfitters work other jobs to make ends meet

An Outfitter's net income is 10 percent after expenses.
Other interesting information from this study includes expenditures in key Idaho counties, average expenditure per party, total resident and non-resident deer and elk tags opportunities, revenue generated per big game tag, combined estimated revenue by major river section, estimated revenue by pack trips, trail rides, cross country skiing, snowmobiling, outdoor photography, backpacking, climbing and day hikes.
This U of I study also includes information on the top three reasons for choosing an Idaho outfitted vacation versus another type of vacation, the top three reason clients choose an Idaho outfitted vacation versus a trip outfitted in another state, the top three reasons clients had for selecting the particular outfitter for their trip, the most influential source of information clients used to book a trip and the residency by state of clients.
Recent 2020 modeling by the Idaho Departments of Commerce and Labor. The results of a 2022 IOGA economic study in conjunction with the Idaho Travel Council/Department of Commerce are expected in 2023.